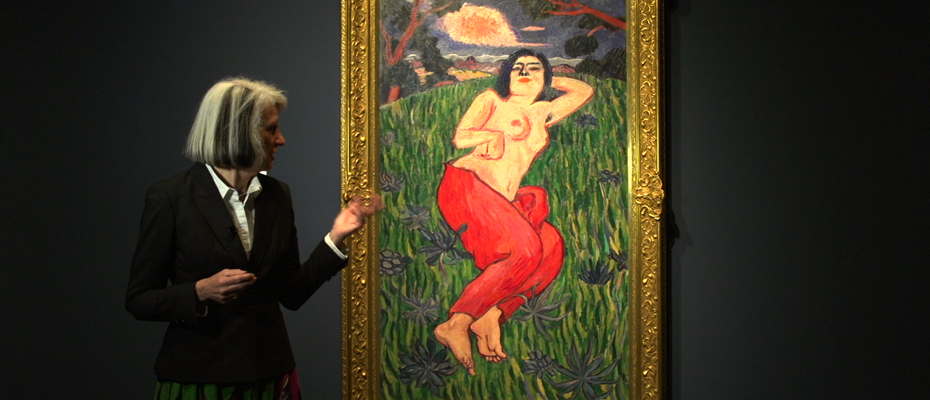 Alison Carroll is the presenter of A Journey Through Asian Art.
Alison Carroll has been an academic, critic, writer, curator and administrator of art exhibitions and artist exchanges with Asia for over 20 years. She has two First Class degrees in Art History from the University of Melbourne, and has taught there at various times since graduation. She has written many books and articles on European, Asian and Australian art. She was Curator of Prints, Drawings and Photographs at the Art Gallery of South Australia for ten years, and during that time, in 1985, curated the major exhibition East and West; the Meeting of Asian and European Art. She has curated over 40 exhibitions, including Out of Asia, the first exhibition to include Australian artists' attitudes to Asia, in 1989, and the first major inclusion of contemporary Asian art at an Adelaide Festival, in 1994. She was appointed to the National Advisory Committee for the Queensland Art Gallery's first (and following two) Asia Pacific Triennials of Contemporary Asian Art in 1991. She has served on the Visual Arts Board of the Australia Council, Arts Victoria's Arts Development and International Advisory Committees, the Advisory Committees for Arts Management at the University of Melbourne and the University of South Australia, the Board of the Art Museums Association of Australia, the City of Melbourne's Arts Advisory Board, the Australia-Indonesia Institute and the Tasmanian Arts Advisory Board.
In 1990 she established and was Director (until June 2010) of the Arts Program at Asialink, University of Melbourne, the main program for arts exchange between Asia and Australia for visual arts, performing arts, literature and arts management practice. The program has sent over 600 leading Australian artists to Asia to work for periods of up to 4 months, toured over 80 exhibitions in the region to 18 countries and over 300 venues, initiated arts training programs in Asia and Australia and prepared arts management information for use in the region, managed an internship program with Indonesia and created a special 'arts & community program' there, arranged literature tours of Australia's leading writers around the region, led the main forum for discussion of the arts between Australia and Asia, and undertaken specialist programs in Indonesia, Korea and Japan. The last Australia Japan Visual Arts Program included exhibition collaborations, curatorial exchanges and forums and from these forums has come the Utopia project, a roving visual arts event for the whole region. She published a major book on 20th century Asian art The Revolutionary Century; Art in Asia 1900-2000, (Macmillan Australia) in 2010.  She is currently an Honorary Research Fellow at the Victorian College of the Arts, University of Melbourne.
She received the Visual Arts Board of the Australia Council's Emeritus Medal 2006 and was made a Member of the Order of Australia (AM) in 2010 for her work at Asialink.