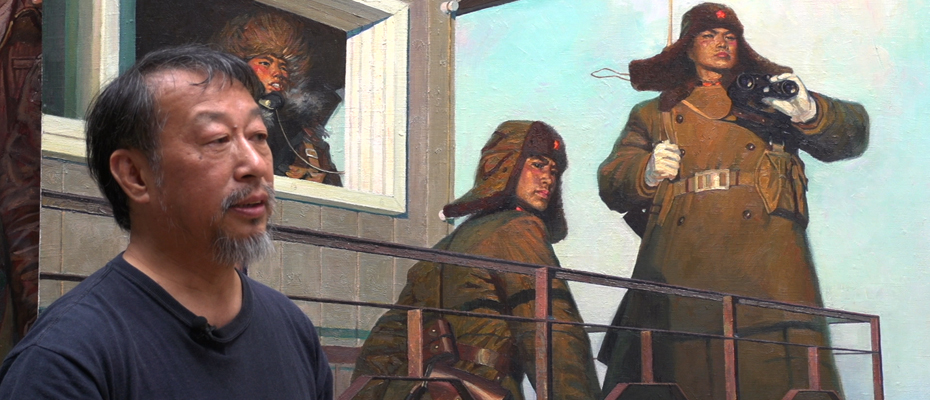 Scroll down to discover the artists in A Journey Through Asian Art.
Born in 1950, Nunelucio Alvarado lives in the Visayas, the islands of the central Philippines well known for growing sugar.  It was here in 1986, with two others, that he formed the Bacolod-based progressive group known as the Black Artists in Asia, focused on making artworks that focused on the lives – the joys and the trials – of the oppressed local farmers and fisherfolk.  His agrarian worker, or sakada, is portrayed as 'squat, square-shoulder, and wide-eyed from hunger as much as from quiet desperation amid the sugarcane plantations of the landlord classes.' (see http://artprojects.tripod.com/alvarado.htm).  The form of the figures, their frequent large scale depiction, and their subject-matter is reminiscent of similar works by the Mexican 'renaissance' artist Diego Rivera painted on the other side of the Spanish-dominated Pacific Ocean.
Born in 1957 in Fujian, China, Cai Guo-qiang has shown his work to international acclaim since the early 1990s.  Now living in New York he regularly has major solo exhibitions at leading museums around the world.  Often using traditional Chinese materials and symbols, like gun-powder, the power of the simple ink-brush, or Maoist period sculpture, his works are often huge constructions that confront the audience with their sheer scale, daring, dynamism and showmanship. He is saying that the role of the artist is to dream large and create works that take the viewer into another scale of experience. He first showed a major gun-powder work at the Queensland Art Gallery in 1996, and in 2013 the same gallery hosted a major solo show that recreated leaping wolves in a swirl of primal energy, and a Noah's ark of animals all lapping water from a communal pond.
Choi Jeong-hwa was born in Seoul, Korea, in 1961, where he still lives though maintaining a very busy international art practice. He has shown work around the world, from Sao Paolo to Shanghai, from Vienna to Bangkok, London to Tokyo, as well as in Melbourne, and at the National Gallery of Victoria in 1999 (over-life-size policemen) and Sydney Biennale in 2010 (plastic buckets at the Opera House).  He makes inventive, witty, humorous installations about the nature of art that often include plastic everyday objects, placed together in a way to delight and confront viewers about what is beautiful, and what is meaningful.
Brenda Fajardo, born in 1940, was honoured in 1998 as one of her country's  One Hundred Culture Heroes by the Cultural Centre of the Philippines. Using folk beliefs and imagery, including the use of tarot cards, she takes local historic and mythical stories and brings them to life in paintings of contemporary political relevance.  A well-known series is her Playing Cards of Filipino Life, a version of which is in the collection of the Queensland Art Gallery. Her work is often small (but intensely worked and richly coloured) but the themes are large – about the struggle of life in socially chaotic times, especially for women, children and the powerless.
http://luciahartini.blogspot.com.au/
Born in 1959, and living in Yogyakarta, the cultural centre of Java, Lucia Hartini has been a leading Indonesian painter for a number of decades, involved in numerous exhibitions in that country.  Her work focuses on a personal vision of individuals living in a literal and metaphoric cosmic world, subject to magic forces outside their control.  While she uses some of the symbolism of European Surrealism, her images reflect a deeply held Javanese belief in the immaterial world.
Amanda Heng is feted in her home city of Singapore, one of the best known artists of South East Asia, and has shown her work internationally for a number of decades.  Born in 1951, her work of performance, installation and photography has focused on the inner experience of the individual, particularly women, in a complex urban but basically Confucian patriarchal society like Singapore's. She was a founder of the seminal Artists Village in the early 1988, and has been involved with collaborations with artists and non-artists, run workshops and been involved with community throughout her life.
Kim Hong-hee has played an important role in the development of Korean contemporary art through her various roles as art historian, art critic, and curator. Currently she is the Director of Seoul Museum of Art, after being Director of Gyeonggi Museum of Modern Art and the founding Director of Ssamzie Space, at the time the leading contemporary art space in Seoul. She has worked on many international art biennales, written many books on contemporary art and museum practice, spoken at conferences around the world, and worked on various projects with Australian colleagues.
Lee U-fan was born in Korea in 1936 and came to Japan to live in 1956 where he still lives, just outside Kamakura.  Starting with his leadership of the Mono-ha movement in Japan in the late 1960s, his work has been acclaimed internationally at over 100 solo exhibitions alone, including recently at the Guggenheim Museum, New York. Mono-ha, or the 'School of Things', sought to remove the 'meaning' placed on individual objects and see everything as part of an equally balanced continuum.
Born in 1945, in Adelaide, where she still lives, Ann Newmarch quickly became one of the leading young artists emerging in the politically-active 1970s in Australia, co-founding the Progressive Art Movement in 1974 and being a founder member of the Women's Art Movement in Adelaide in 1976.  Inspired by writings and actions of leftist political movements internationally, Newmarch worked with groups on subjects of social and political issues, with her work being widely seen on walls and in printed posters.  In 1986 she was an early Australian artist to travel to China to undertake joint projects there.
Born in Shanghai in 1948, Shen Jiawei came to Australia in 1989, just before the Tianenmen Square incident, and he now lives just outside Sydney.  He has made an international name for his highly skilled, large, oil-painted 'history paintings' of contemporary, historic and devised subjects, usually of Chinese subjects.  He came to prominence in China during the Cultural Revolution when Jiang Qing, Chairman Mao Zedong's wife, noticed and praised his work, notably the painting of two young men on guard duty (heroically guarding the nation) overlooking the northern border river to (then) hostile Russia.
Curator, writer and arts administrator, Tan Boon Hui has recently left the Directorship of the Singapore Art Museum to move higher in the Singapore Government's arts hierarchy. He took on the SAM role after work at the National Museum of Singapore and the Asian Civilizations Museum. A keen advocate for South East Asian contemporary art, and for Singapore's role in showing, discussing and promoting it, his achievements have included major exhibitions organised by SAM, including the 2013 Singapore Biennale and developing the museum's collection to be, he says, the best collection of South East Asian contemporary art in the world.
http://www.yumi.com.au/index.php
Yumi Umiumare is a dancer, choreographer and the creator of Butoh Cabaret and visceral dance theatre works. Born in Hyogo, Japan and originally a member of the seminal Butoh Company DaiRakudakan in Tokyo, she came to Australia in 1991 to appear in the Melbourne Festival, and has lived in Melbourne since 1993. Over the last 20 years she has provoked audiences with the startling visual and physical power of her work, using her body, gesture and costume to undermine existing ideas of harmony, beauty and nature.